Security Cameras and Keyless Entry
Over the last 20 years we have become an authority on security systems, security cameras, and door access controls…and consistently source the newest, best, and most cost effective technology available.
Features and Benefits of what we offer
Administrators can view their security cameras remotely from anywhere with an internet connection. 
Easy recording and playback to make sure issues are caught on camera.
Keyless entry systems allow ease of access to employees.
Door access with integration to phone system, time clocks and video feed.
24/7 Support of all camera and access control systems.
Camera technology has come a long way since its inception. We use only the newest selection of Internet Protocol (IP) cameras which boast robust features and crystal-clear video quality. The Network Video Recorder (NVR) systems that we provide offer video footage storage with remote viewing features.  New systems are installed to allow future upgrades to cameras without having to re-wire your building.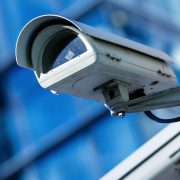 We offer a range of keyless access systems. Keyless access helps you keep track of employee working hours, as well as provides easy security for any type of office. We will match the door boxes to fit your company's needs and aesthetics, and also provide integrated maglock systems. MRT Solutions can install keyless access to just about any type of door.